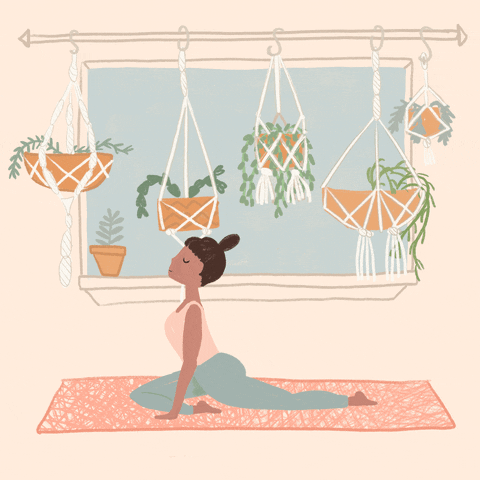 Last year I wrote about how yoga can benefit you and your body. But what about where, when, and how will you do yoga? Look no further, my friends! This is a curated list of places to go, apps to get, and where to get the tools to start to yoga. (If you prefer other exercise methods, scroll down.)
A good way to start is by joining a yoga studio. Why? Because even though it looks easy, it's NOT. There are a lot of small things to learn (even the way you will breathe is different) and no better way to learn directly telling you what you are doing wrong and what you are doing right. They will guide you and instruct you every step of the way. After this, you will be ready to take on the practice on your own. But, are there any yoga studios in Puerto Rico? Yes, there are and they are pretty great.
Casa Yoga – located in the heart of Santurce, Casa Yoga (Yoga Home) is the place to go to feel quite literally at home. It's small and welcoming, the staff is amazing, and if you are looking for something outside of the Santurce area, don't worry, they recently opened up a place in Guaynabo. Did I mention they also sell yoga goods? Yes, they do! And if yoga isn't enough, they got Pilates! Check out their Instagram and get your yoga on! It reopens this Monday, June 29.
Mind Body Parlor – This yoga studio is located in Miramar. They offer yoga classes during the entire day, have nice special offers and events, and also offer Pilates classes.
Ashtanga Yoga PR – Located in Condado, Ashtanga Yoga offers classes for every level, from beginners to advanced. If you're looking to become a yoga teacher yourself, they offer an extensive yoga teacher training program. They also sell yoga mats at their studio, specifically Manduka mats, which are considered by many the best out there.
Now that you're ready to take on a routine by yourself and visit the App Store, you notice a trillion (not really, but you get what I'm saying) of yoga apps! Lucky for you, I've tried them all, and here are my favorites:
Yoga Studio – it's super easy to use, with classes for all levels and needs. Still a beginner, there's a class for you. Feeling intermediate? There's also a class for you. Something quick? Yes. Something that takes more time? Also, yes. Want to practice your salutations? YES! It really has a bit of everything.
Pocket Yoga – If you're feeling like something a little bit more intense, and you want to break a sweat, this is the app for you. This is basically the HIIT of yoga. Enjoy!
Down Dog – This app is super special because you can really customize your class. You can choose the type of class, the level, the length, and even the music!
Don't think I forgot about your gear! It's important to have the right accessories. The mat is of course one of the most important things. Blocks are super helpful while you're still a beginner. Yoga in the nude is a thing, but nothing gives me more motivation than some comfortable yoga pants.
Amazon – You will find it all, including your best yoga gear.
Lululemon – Feel like splurging? This is the place to go. The quality of the clothing is amazing, and you're going to want to wear Lululemon all day long. Also, try Gym Shark!
YogaOutlet – The name says it all!
Even though yoga is one of my favorite ways to exercise, not everyone feels the same. I've added below other wellness apps the Piloto crew is using to stay healthy and feel healthy. Find what is right for you and your lifestyle.
We'd love to hear your suggestions! We love trying new things and sharing them with the community.