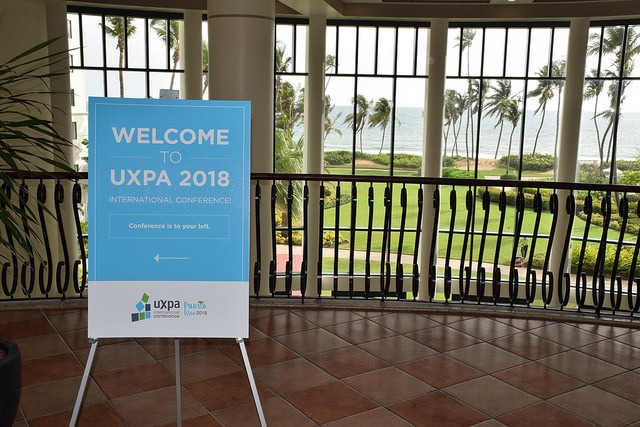 This past week, we attended the (User Experience Professionals Association): UXPA  2018 International Conference at Rio Mar Beach Resort & Casino in Puerto Rico.  The UXPA supports people involved with research, design and evaluate the user experience of products and services. [What is UX?]
We participated in workshops on dashboards and data fluency, learned about how to be better data communicators and how it's all about translating the data from one language to another.  We attended UX research management seminars and absorbed details on how to connect data and product. Discussions explored data science and research work-stream methods and how it plays a role in an iterative process to shape how users engage with a services.
Sofia Stolberg from Piloto 151 interviewed the UXPA team:
Jennifer Romano-Bergstrom – President of UXPA
Claudia Gutierrez – Director of Communications
Marta del Rio – Regional Director of LatAm
"What is a UX professional?"
A UX professional is someone who is involved in UX work either as a designer, researcher or product manager. People creating design that users interact with.
The one putting those designs in front of users to make users understand the product in the way that they should.
A UX professional is a connector. Bridging people in design, product and development.  The UX is the one whose goal is to make the technology easy to use.
"What is UXPA about?  What is the theme that you focused on?"
It's for everybody who's interested in UX. The topics are a bit more advanced for someone just starting in the field, but there's content for everyone.  This year we focused on connecting academia and industry… how people are researching all this information and people who are in this research field.  We also have a lot of AI, presentations on delivering conversational and voice interfaces and the process of designing these services.
"Is there an industry where people are more clustered around?"
It's across industries – we even had a woman who leads the UX team of a church. We have people from the top tech companies such as Facebook and Google, medium-sized companies and people from academia.  This is an international organization, but we have a lot of people from the US.
We're working on making it more international.  There's a lot of content relevant for any part of the world.
"Why did you choose Puerto Rico?"
We want to make a push into Latin America and we see in Puerto Rico a mixture of US and Latin America. It felt like a hub for that.  We are starting a special interest group, welcoming people from all over LatAm to join and make UXPA even bigger in Latin America.
"Companies in PR do not apply many of these principles in designing services.  How do we get started here in Puerto Rico?"
Piloto 151 will be hosting the UXPA Chapter in Puerto Rico! If you are interested in joining, fill out this form!