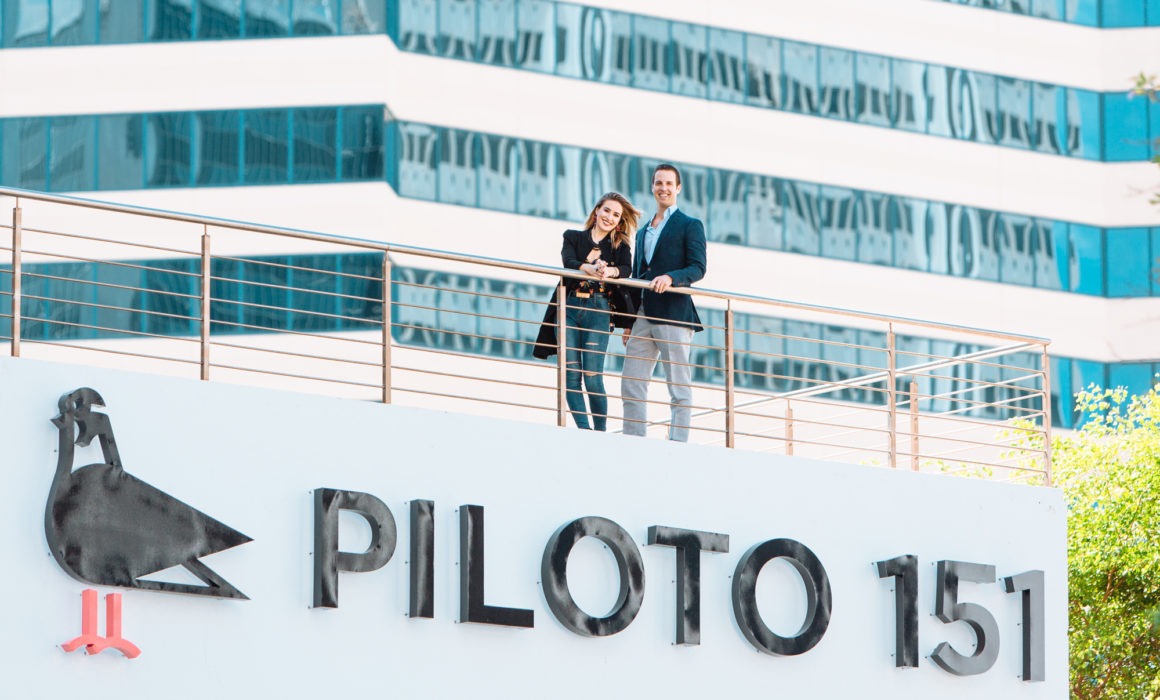 SAN JUAN, PUERTO RICO – After just one year from the launch of their second outpost in Santurce, Piloto 151 , Puerto Rico's first coworking space, announced today that it will open its third location in the heart of the financial district by the end of the year with a total investment of upwards of $500,000. Sofia Stolberg, co-founder and CEO of Piloto 151 describes how their coworking community has continued growing throughout the years.
"When we first launched Piloto 151 in 2013, few people on the Island knew what coworking was. Today, more and more individuals, startups, entrepreneurs and companies cowork to reduce costs and risks, increase productivity and connect with a community of like-minded individuals. We exist to help entrepreneurs grow and thrive through inspiring work spaces, one-stop-shop services, networking events and a growing community of doers. The entrepreneurship ecosystem on the Island is now more robust than ever and we continue to support entrepreneurs and businesses who are expanding and shipping their products and services from Puerto Rico to the entire world," said Stolberg.
According to the Global Coworking Unconference Conference's latest industry study, demand in the sector is projected to continue growing 16% annually for the period between 2007 and 2022. Today there are over 17,000 coworking spaces internationally and over 2 million people worldwide cowork.
With the launch of its third location, Piloto 151 will add nearly 10,000 square feet to its existing footprint of 22,000 square feet between its Old San Juan and Santurce locations. Piloto 151 Milla de Oro, which will open in the City Tower building on 250 Ponce de León Avenue, will initially have 8 offices and 14 dedicated workstations.
Amongst the coworking amenities, members and guests will have a dedicated fiber optic circuit provided by Aeronet's Gigabit1, full back up generator, ergonomic Herman Miller chairs by MOS Collection, a large conference room and an outdoor rooftop terrace.
Juan Carlos Stolberg, also co-founder at Piloto 151 highlights the added benefits of their new offering by saying: "Each Piloto 151 location has its own idiosyncrasy and personality. Different locations, neighborhoods and architectural layouts allow our members and visitors to flow through our spaces depending on where they are doing business or which space can provide the greatest source of inspiration on any given day. Hato Rey has always been the epicenter of the financial sector in Puerto Rico, but now it is also much more than that. Piloto 151 will open its doors to continue expanding on the creative and cultural offer of La Milla de Oro."
Membership presale at Piloto 151 are now open. For more information visit their website at www.piloto151.com/milladeoro or call 787-501-2048.
—
Tras un año de expandir a Santurce, Piloto 151, el primer espacio de coworking en Puerto Rico, anuncia la apertura de su tercera localización en la milla de oro con una inversión total ascendiente a $500,000.
Sofia Stolberg, co-fundadora y Principal Ejecutiva de Piloto 151 relata como su comunidad ha seguido creciendo a través de los años. "Cuando lanzamos nuestro primer espacio en el Viejo San Juan en el 2013, pocos sabían lo que era coworking. Hoy la historia es muy distinta y más y más individuos, startups y empresas optan por este estilo de trabajo para reducir costos y riesgos, aumentar la productividad y conectar con una comunidad de agentes de cambio. Nosotros existimos para apoyar a empresarios en sus trayectorias de crecimiento a través de diversos espacios inspiradores, servicios comprensivos, eventos enriquecedores y un gran sentido de comunidad. Hoy por hoy, el ecosistema empresarial de la Isla es más robusto que nunca y nosotros continuamos apoyando a una comunidad deseosa de seguir creciendo y exportando sus productos y servicios de Puerto Rico al mundo entero", señaló Stolberg.
Según el estudio más reciente del sector por el Global Coworking Unconference Conference, la demanda en la industria de coworking a nivel global está proyectada a seguir creciendo un 16% anualmente para el periodo de 2007 al 2022. De hecho,  existen más de 17,000 espacios de coworking a través de todo el mundo y sobre 2 millones de personas se suscriben a esta modalidad de trabajo.
Con esta tercera localización Piloto 151 añadirá cerca de 10,000 pies cuadrados a su huella existente de 22,000 pies cuadrados entre las localizaciones de Viejo San Juan y Santurce. Piloto 151 Milla de Oro, que abrirá en el edificio de City Tower en el centro de la actividad bancaria, inicialmente contará con 8 oficinas privadas y 14 estaciones dedicadas de trabajo. Entre las amenidades de este nuevo espacio se destacan un circuito dedicado de fibra óptica provisto por Gigabit1 de Aeronet, sillas ergonómicas Herman Miller de MOS Collection, un amplio salón de conferencias y una terraza al aire libre.  
Juan Carlos Stolberg, también co-fundador de Piloto 151, resalta los beneficios añadidos con esta nueva oferta: "Cada localización de Piloto 151 tiene su propia idiosincrasia y su propia identidad hasta cierto punto. Diferentes localizaciones, vecindarios y espacios arquitectónicos permiten que nuestros miembros y visitantes puedan fluir entre ellos dependiendo de dónde estén haciendo negocio ese día o de qué lugar les puede brindar la mayor inspiración. Hato Rey siempre ha sido el centro bancario de la Isla, pero ahora también es mucho más que eso. Piloto 151 abrirá para seguir expandiendo la oferta creativa de la milla de oro".
La preventa de las membresías en Piloto 151 Milla de Oro ya está en pie.  Para más información visite www.piloto151.com/milladeoro o comuníquese al 787-501-2048.