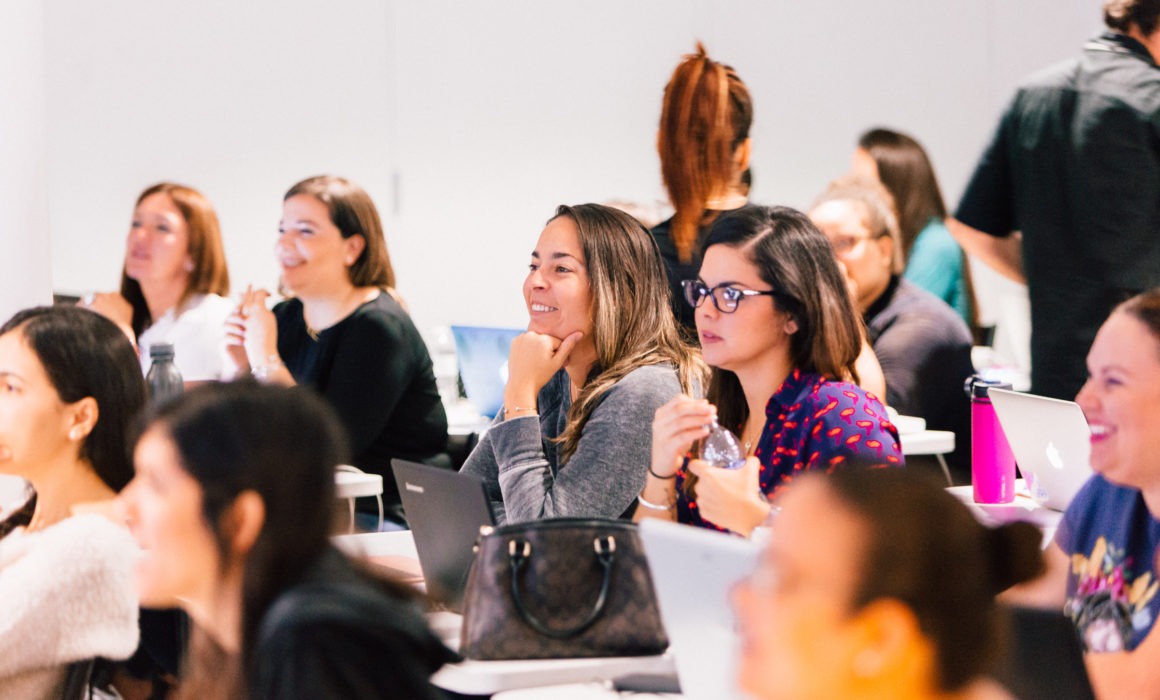 Published December 1st in News is My Business.
Womentechover will launch at this year's edition of "Animus, Women's Innovation Journey," with the goal of increasing opportunities for women in the tech industry, Sofía Stolberg, founder of Piloto 151 and Codetrotters confirmed.
Saying statistics on women's participation in the tech sector speak for themselves, she cited National Center for Women and Information Technology data that shows that women hold only 25 percent of computing jobs, only 11 percent of executive positions at Silicon Valley companies and own merely 5 percent of startups.
In addition, they earn just 28 percent of computer science degrees, according to the stateside organization.
"It's high time for these statistics to change. The opportunities that the tech sector offers are unique and global in nature and we need more female representation in the industry," said Stolberg.

"Womentechover launches as a platform to amplify women in tech providing them with a much needed space to talk about their tech projects, to educate and inspire more women to venture into the sector, and to work with employers who understand the benefits of a more diverse leadership and tech team," said Stolberg.
With its vision of changing the "face" of the tech sector, Womentechover had already experimented with some events and workshops in the past.
However, it was not until news of the Google Manifesto and Uber's misogynistic culture made mainstream media headlines that Womentechover's concept really took flight, she said.
"It was interesting to witness how broader awareness of the underrepresentation of women in the tech sector on a global scale, suddenly translated into an increased interest in the Womentechover offering," Stolberg added.

"We had an intro to coding workshop this past August that sold out immediately and even had a waitlist," she added. "That's when I knew that we were ready to launch Womentechover officially and that we were one step closer to fulfilling our vision."
For Lucienne Gigante, founder of Animus, it made "perfect sense" for Womentechover to launch at her conference.
"Supporting women's economic development is our mission, especially in scalable and global industries like technology. This year, many of our speakers come from the tech world and we hope to inspire more women to take advantage of the opportunities in this high potential sector," said Gigante.
Versión en Español
Womentechover lanza oficialmente en la conferencia de Animus, Women's Innovation Journey para ampliar las oportunidades de mujeres en el sector tecnológico.
Según Sofia Stolberg, fundadora de Piloto 151 y Codetrotters, las estadísticas hablan por sí solas. A nivel nacional, de acuerdo al National Center for Women and Information Technology, las mujeres sólo representan 25% de los empleos de computación, el 11% de los puestos ejecutivos en empresas de Silicon Valley y nada más un 5% de startups son fundadas y lideradas por mujeres. Además sólo el 28% de los grados en ciencias de cómputo son otorgados a mujeres.
"Ya es hora de que estas estadísticas cambien. Las oportunidades que ofrece el sector de tecnología son globales y son únicas. Las mujeres necesitamos mayor representación. Womentechover lanza en estos momentos históricos como una plataforma para amplificar a las mujeres que estamos en tech, dándoles un espacio para hablar sobre sus proyectos, para inspirar y educar a más mujeres a que se interesen en el campo y para trabajar de la mano con patronos que entiendan la importancia y los beneficios de lograr mayor diversidad en equipos técnicos y en posiciones de liderato", señaló Stolberg.
Con la visión de cambiarle la cara al sector de tecnología, Womentechover ya había experimentado con eventos y talleres educativos en el pasado. Sin embargo, no fue hasta este agosto pasado que el concepto tomó vuelo después del famoso manifiesto de Google escrito por un ahora ex empleado convencido de la superioridad biológica de su género y de la revelación de la cultura misógina en Uber.
"Fue bien interesante ver cómo con mayor exposición sobre la falta de representación femenina en nuestro sector y a nivel global, surgió más interés en la propuesta de Womentechover a nivel local. El taller de programación que tuvimos en agosto se llenó y con lista de espera. En esos momentos entendí que había llegado el momento de lanzar Womentechover oficialmente y que estábamos más cerca de alcanzar nuestra visión," comentó Stolberg.
Para Lucienne Gigante, fundadora de la conferencia de Animus, el lanzamiento de Womentechover en Animus hacía todo el sentido del mundo.
"Apoyar el desarrollo económico de la mujer es nuestra zapata, especialmente en industrias escalables y de alcance global, como en tecnología. Este año tenemos muchas conferenciantes del mundo de tech y queremos inspirar a que más mujeres se adentren en este sector de tanto potencial," destacó Gigante.
Para obtener boletos a la conferencia de Animus, los interesados podrán visitar www.animussummit.com. Las personas interesadas en obtener más información sobre Womentechover, pueden visitar www.womentechover.com o escribir a info@piloto151.com.