Take a workation
 in Old San Juan
However you feel about your job, doing it where you vacation will make it better. Explore a coworking space alternative in the beautiful Old San Juan or join us in our new location in the heart of Santurce. With your Piloto membership, from virtual offices to suites, you can enjoy all of the perks we have to offer including discounts at mouthwatering restaurants, 5-star hotels and top-notch fitness centers. Treat yourself, and support local business while you do.
Tailor our services to
your needs
Your Coworking Membership gives you access to premium services, just add on what you need. For a tailor-made membership, feel free to check out our Corporate Services.
Membership Plans in Old San Juan
Join our community of doers with the membership that fits your needs. All of our Old San Juan coworking plans include the previously listed perks in addition to our add-on services.
Café
Access to a Piloto 151 Old San Juan shared office work space. Find an available comfortable spot and get to work.
Estación
Rent month to month a dedicated workspace in a community environment in Old San Juan. Includes 24/7 access and a file cabinet.
Estudio
Your own furnished private office that seats 2-10 people. Add-on exclusive Internet hubs, Ethernet ports and telephony services.
Pasajero Daily Walk-In for Old San Juan
Our Daily Walk-In plans are a relaxed option, with all the essentials to get things done. Get unlimited use of our inviting open space layout, indoor/outdoor lounges & communal areas, high speed Fiber & Wi-Fi, and on demand conference room usage at 20% discount.
Discounts that

make you smile
With your member-only Piloto Benefits card, enjoy discounts and special offers from cloud services, restaurants, hotels, parking lots, insurance providers, and more.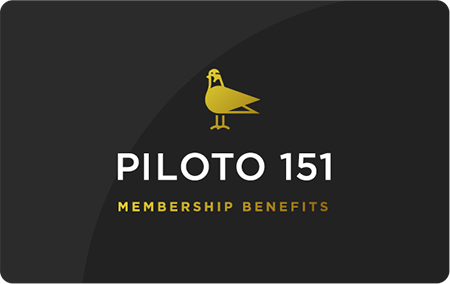 Enjoy all the
historic city

has to offer

Experience all the must-see sites and spots in Old San Juan, Puerto Rico's Spanish colonial neighborhood. From beautiful views, 16th century architecture, sculptures, parks, art and museums, to amazing restaurants, coffee shops, shopping, people-watching, music, dance, bars and nightclubs, we're sure you won't get tired of discovering its endless charm.