Hey there, it's Angela, your friendly neighborhood dietitian! Making sure you have enough food essentials is vital to ensure you and your family are well-prepared for emergencies or tough times. Whether it's hurricane season, other natural disasters, or some unexpected events, having a well-stocked pantry can be a real lifesaver.
If you live in hurricane-prone areas like Puerto Rico, it is crucial to start preparing before the hurricane season begins on June 1st, extending until November 30th. Prolonged power outages, flood damage, and contaminated water after a hurricane are just a few reasons why stocking up on emergency supplies is essential.
Food Prep for an Emergency
1. Plan a menu that meets your family's needs and preferences. 
2. Write down a shopping list and calculate the daily portions you will need. 
3. Aim for a supply that can last your family for at least 3-5 days, or even up to 2 weeks. 
Tips
When building your food stock, choose foods that require little or no cooking and need minimal water for preparation, Also, choose those that are available in individual or small packages to minimize leftovers. Plus, make sure to have foods that do not require refrigeration and are shelf-stable with a long shelf life. 
Ensure you have sufficient storage space for food, water, and basic necessities. This storage space should be in a safe place that is protected from insects, rodents, pests, and potential flooding.
Include a variety of options that can be combined to create balanced meals and choose from all food groups. During an emergency, it is important to prioritize nutrition and choose shelf-stable foods that require minimal cooking and provide essential nutrients.
Protein sources: 

canned fish/chicken/beans and dried chickpeas/edamame, 

nuts, nut butter, 

etc.

Grains/Starches: 

rice, pasta, crackers, oats, etc.

Dairy: shelf-stable milk or dairy-free alternatives

Fruits and vegetables: 

canned, dried,

 individual pouches, 100% juice
While I do recommend prioritizing nutritious and shelf-stable foods for emergencies, I also suggest having some of your favorite comfort and stress foods that may provide some emotional relief during challenging times 
(hello chocolate! 🍫)
.  
Having a small supply of comfort foods may help ease some stress and provide a sense of familiarity during emergencies. Plus, in the middle of a hurricane, you can't go to your nearest drugstore to get your chocolate fix! Just ensure the majority of your emergency food supply consists of nutritious options to sustain your health and energy levels.
Ideas for Your Healthy Emergency Food Kit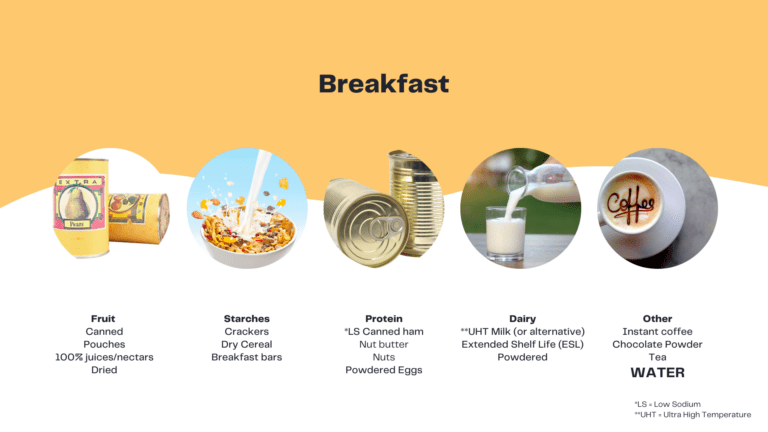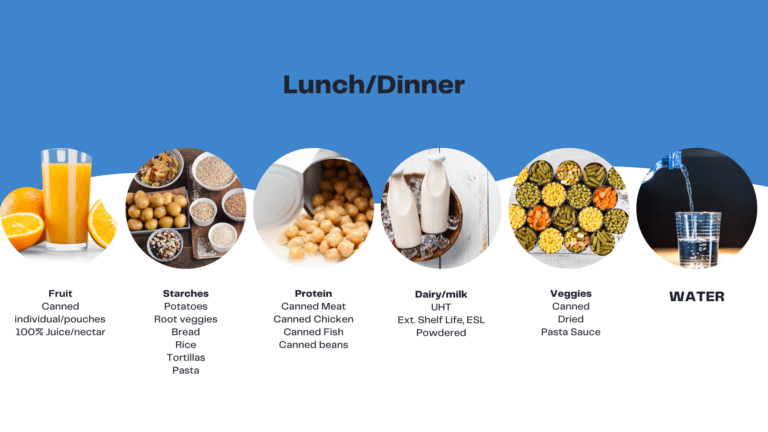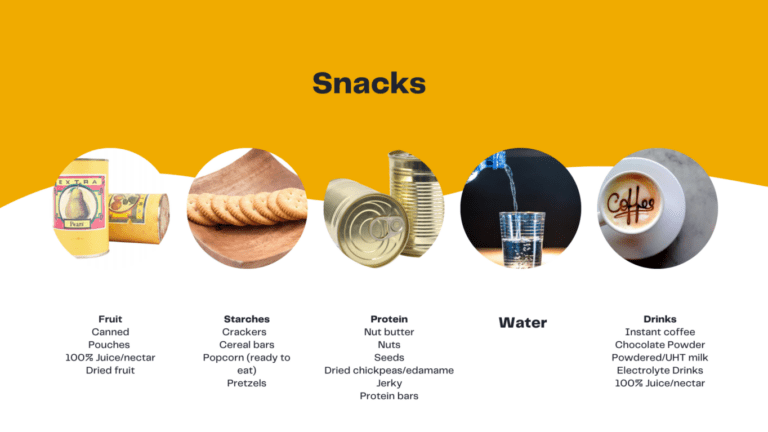 Feeling uninspired about what to include in your emergency meal plan? Below are some meal and snack ideas you can use for your menu. During an emergency, 
try to use up
fresh, perishable foods first, and then move on to items with a longer shelf life, such as canned goods.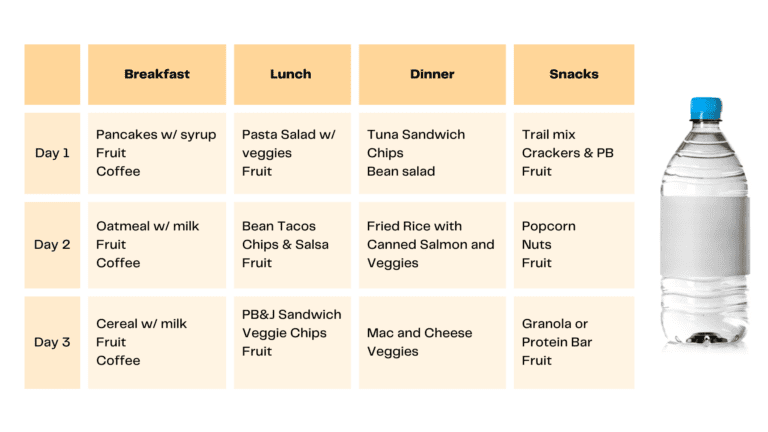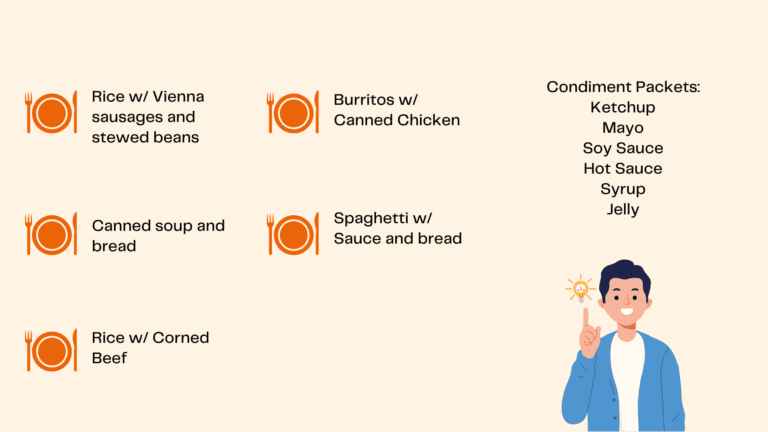 How Much Food & Water Should I Store?
How much? 1 gallon per person per day (minimum!) for drinking and food preparation. You can fill clean containers with water, and if necessary, consider buying bottled water to supplement your supply.
Additionally, store 1.5 to 2.5 gallons of water per person for bathing, brushing teeth, and dishwashing.
Your food needs will depend on:
Ages and number of family members in your household.
Special dietary needs, including food allergies/intolerances.
Food preferences.
Your ability and available equipment to prepare food.
Available storage space.
Once you have your food stock ready, don't forget to rotate your supplies! Keep an eye on the expiration dates of the food items and replace canned goods within 12 to 18 months. Periodically check the condition of your emergency food kit throughout the hurricane season.
Equipment for Preparing & Serving Meals
In the event of a power outage, it's helpful to have alternative cooking methods available. Options include a camping stove or portable grill. Make sure you have enough fuel, such as gas, or charcoal for these cooking devices. Additionally, stock up on matches or lighters to ignite them.
Plus, make sure to have other necessary equipment for preparing and serving meals:
Handheld can opener.
Pots and pans.
Utensils for cooking and serving.
Disposable plates, cutlery, and cups.
Dos and Don'ts of Food Safety
Wondering what to do with food during or after a power outage? Make sure to enjoy your fresh, perishable foods first before moving on to items with a longer shelf life, such as canned goods. If you are unsure if your food has gone bad….the general rule of thumb is "When in doubt, throw it out!" Don't risk food poisoning during an emergency!
Do not eat food that has been in contact with contaminated water.
Never taste food to see if it's "still good". Ew!
Throw out items that are moldy or have an unusual odor or appearance.
Throw away refrigerated perishable food (meat, poultry, fish, eggs, dairy, and leftovers) after 4 hours without power.

Canned foods can be contaminated once opened, so use them within 4 hours.
Fridge: Without electricity, your fridge will keep food cold for ~4 hours.
Freezer: Full freezer can maintain temperatures for up to 48 hours. A half-full freezer can maintain temperatures for ~24 hours.
How to Keep Your Food Fresh During Power Outages:
Use a Cooler: Move your perishable food items to a cooler and pack it with ice or frozen gel packs. Make sure there's enough ice to maintain a temperature of 40°F or below. Add more ice to the cooler as needed to keep things chilly.

Plan Ahead: If you expect a prolonged power outage, consider getting dry ice or block ice. Fifty pounds of dry ice can keep an 18-cubic-foot freezer frozen for up to 2 days. (Be careful not to touch dry ice with bare hands or let it directly touch food.