Most information available online is in Spanish, but if you follow these easy steps, you can do it yourself. As language can be a barrier for navigating these tasks, we recommend hiring an expediter, such as Licenses & Co., to fast-track the process.
If your license is no longer valid and has expired, you will have to take both the written and driving exams without needing to wait until the established time.
Step 1: Make an appointment online with CESCO 
If you have a valid driver's license from one of the reciprocity states, visit CESCO online (Department of Transportation and Public Works) to verify your documents and request an appointment here.
Make sure to download the CESCO app! It will come in handy.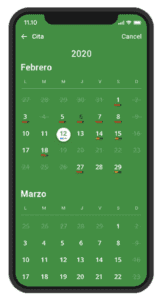 Step 2: Get all your documents together
A valid driver's license from the U.S. or from a foreign country with reciprocity agreement such as Germany, Taiwán, Guam, or Virgin Islands.
Original Social Security card, W-2 Form, or Tax Forms from current year
Birth Certificate or Passport
Proof of residency that has less than 60 days. You can use a water or electric utility bill, bank statements, or phone bill.
Step 3: Fill out two forms
Step 4: Purchase stamps or sellos for your applications at a bank
Internal revenue stamps or sellos are available to purchase at a bank or colecturía. Check here for points of purchase close to you. They look like postage stamps and are affixed to documents requiring them as a form of tax.  
"Sello de Rentas Internas" code 5120: US $15.00
"Comprobante de Rentas Internas", code 0842: US $2.00
For Real Id driver's license, add a "Comprobante de Rentas Internas", code 2028: US $17.00 (Recommended! The Real ID can function as a valid ID when taking domestic flights or visiting restricted federal facilities.)
Car Registration: Renew your car registration and get your marbete
Every year you must renew your car registration. You will receive a sticker tag – we call it marbete – to place on the right side of your car front window. If your marbete is missing or expired, you will receive a fine. 
To get your marbete, print out your vehicle's license here and take your car to be inspected.
The 2022 marbete looks like this: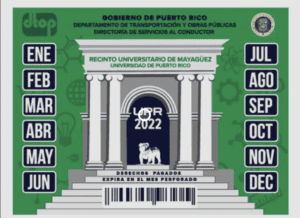 Make sure to download the CESCO app for online access to your new license, keep track of any fines you may incur (and pay for them), as well get reminders when your annual car registration renewal is close by and when it has been registered.
For the next time you have to renew your driver's license, you can take care of it 60 days in advance before its expiration date.
For a step-by-step guide on renewing your marbete click here.
Piloto 151 is the destination for virtual offices, flexible workspaces, and private office space. With coworking spaces in the heart of San Juan, Puerto Rico, our spaces have been designed to inspire creativity, cultivate connections, and celebrate wins.